Cyanotype Workshop
This short workshop will give you all the basics in order for you to feel confident making your own Blueprint Photographs.
Date

Sat September 18, 2021 3:00PM

Location

Upstairs at The Sydenham Centre, 44a Sydenham Road SE26 5QF
Book Now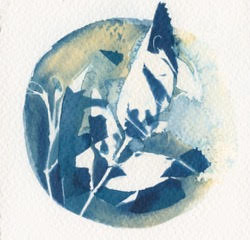 Overview
A cameraless method of image making first explored in the Victorian era, invented by Sir John Herschel in 1842 as a means to copy his notes and used to great effect by Anna Atkins in 1843 with the first publication of the original book, "Photographs of British Algae-Cyanotype Impressions"
This process was the first non silver iron based process easily 'developed' in water. There is a growing interest in this accessible method of image creation which can be used by all skill levels.
During the 1 and 1/2 hours you will learn to:
1- Create a composition
2- make a direct print
3- use a digital negative/acetate
4- Cut a stencil
5- Develop your print
6- In development tricks
7- Toning examples if you don't like blue!
Please wear older clothes as this can stain. Only pre mixed chemicals will be used. All materials will be provided but do bring some items that you may want to make prints with including 2D/3D
Suitable for all ages, bring a notebook and pen.
WORKSHOP COST: £20 adult, £7 child
To book, please email kylewis1@me.com or call Ky on 07754656626