Film: Us
Sydenham Arts Film is back this October! We've taken lots of precautions, so you can enjoy some great cinema safely. Tickets must be booked in advance- no tickets available on the door. Our events have a reduced, limited capacity- Book early to avoid disappointment.
Date

Thu October 29, 2020 6:30PM

Location

2 Jews Walk, Sydenham, SE26 6PL
Book Now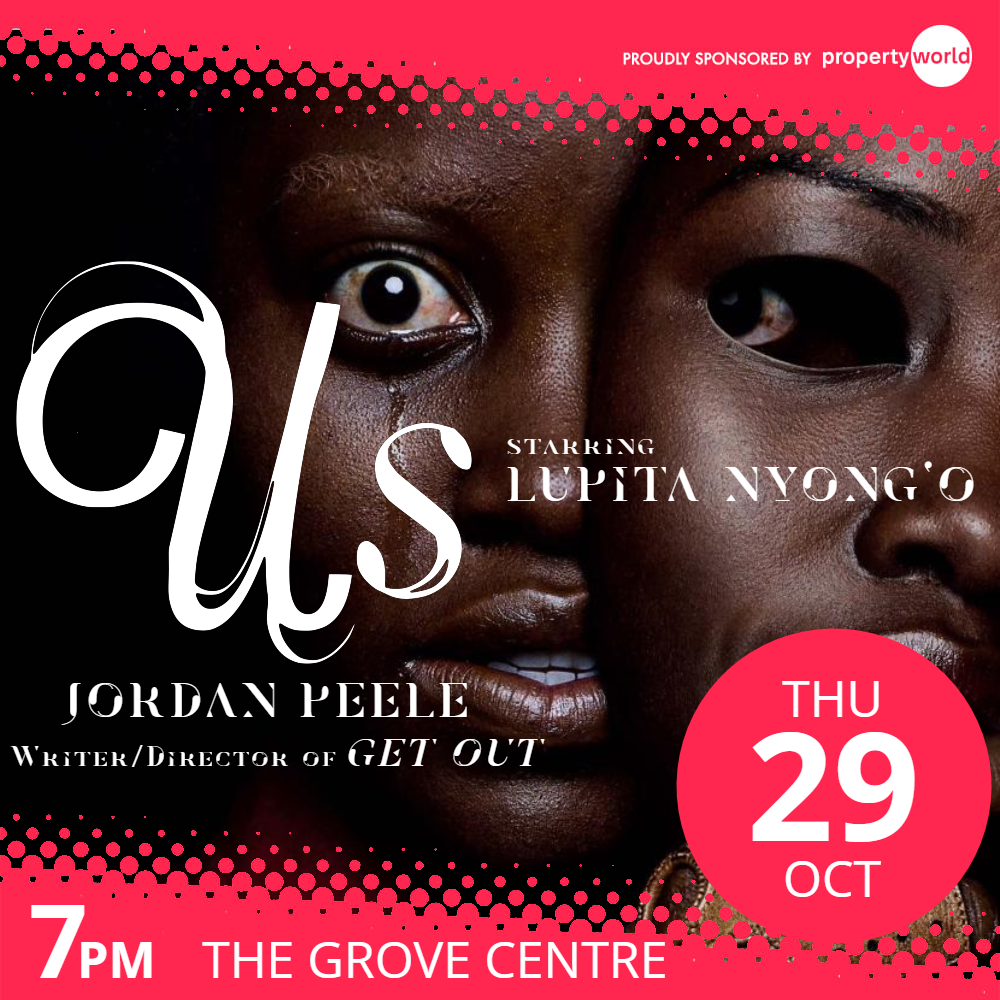 Overview
Join us in the height of 'Horror Season' for a special screening of 'Us'
So, you've made it, right? You are living the American dream, correct? Is your beach vacation serene enough? Are your friends and neighbours white enough? Are they colour blind enough? Are you? Have you looked yourself in the mirror lately? Have you talked to her? Out loud? What is troubling you? Who is to blame? Us or the Others? Who are Us and who the Others? Are you screaming yet?
Jordan Peele follows his hit, pop culture phenomenon of a film debut, "Get Out", (which was nominated for 4 Oscars and won him the one for Best Original Screenplay), with this eerie, mind- boggling and unexpectedly philosophical, cinematic nightmare which you willingly persist not to wake up or avert your eyes from. You don't want to miss a minute of the intriguing, existential puzzles, enigmas, and questions it confronts you with, or a second of Lupita Nyong'o's amazing performance, which you have to see to believe. In a double role, as Adelaide and her mysterious doppelganger, Red, she crawls under your skin, grips your heart, and besieges your mind. Can you resist her? Should you?
PLEASE READ: Changes to our Screenings in light of Covid19
-Please note the earlier start time and venue change- screening will begin at 7pm at The Grove Centre, 2 Jews Walk.
-If you are experiencing any symptoms or feeling unwell, DO NOT ATTEND.
– Check in using the NHS Covid19 Tracing app. Posters with a venue QR Code will be placed in the venue. Scan to automatically receive updates alerting you to any case/outbreak. We will also contact all attendees in the event of any discovery of positive cases.
–Face Coverings (covering mouth and nose) must be worn throughout the screening, as per government guidance for cinemas, unless you are exempt. Staff may ask you to put on your face covering, please let them know if you are exempt.
-A One-Way system will be in place, and clearly marked throughout the venue.
–ALL REFRESHMENTS MUST BE ORDERED IN ADVANCE THROUGH EVENTBRITE– please select your refreshments from the 'Add-Ons'. We will not be able to provide any additional refreshments not pre-booked, at the event.
-You will be asked to use the Hand Sanitizer provided on arrival.
-A queueing system will be in place outside the venue. Please observe the space markers laid out on the floor.
–'Mingling' inside the venue is not permitted. You will be shown to your seats where you should remain seated with your household/bubble. Toilets can be accessed via a one-way system. Please observe social distancing when moving through the venue.
-At the end of the screening, you will be asked to leave one-by-one. Please remain in your seats until you are asked to leave.
The above guidelines must be adhered to. Failure to comply may result in you being asked to leave with no refunds.